Can You Change A Kitchen In A Grade 2 Listed Building
Posted by:
Admin
Tags:
Property, Interior, Kitchen, Alterations, Changes
Posted date:
30-08-2022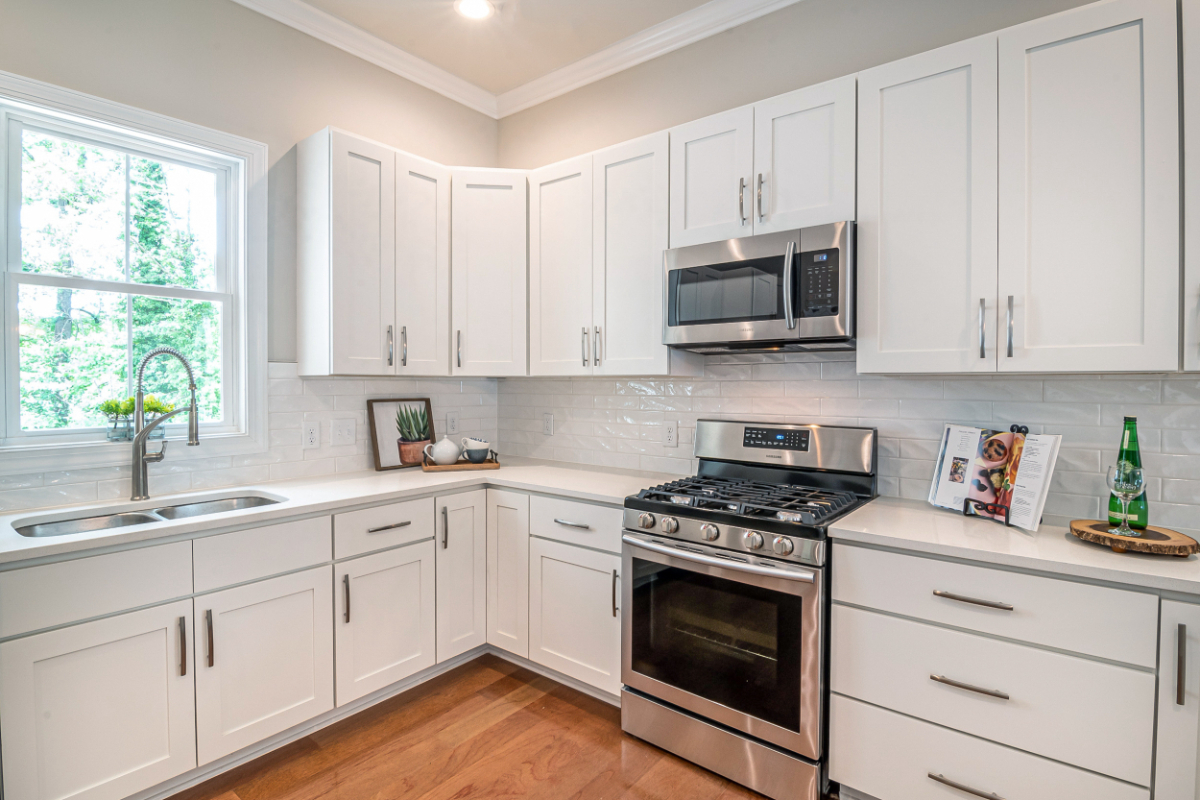 Updating a Kitchen in a Listed Building
Updating a kitchen in a listed building is one of the most common home improvements homeowners want to make. Given that our cooking habits have changed over the years, it's understandable that kitchens in older buildings won't be best equipped for our modern needs. For example, in larger rural listed buildings, you'll find the kitchens are usually placed far away from the dining room or family areas, which most modern families will want to change.
Alongside being placed far away from the rest of the house, older kitchens in listed buildings will usually be north-facing, as this would prevent the food in the pantry from turning bad in the days before fridges. This orientation also took advantage of the prevailing southwesterly wind to draw smoke out of the chimneys. Since modern households want their kitchens easily accessible and open to hosting dinner parties, it is again understandable why people want to update the kitchens in their listed buildings.

Making changes to an existing kitchen
Whether you are allowed to make changes to a listed building's kitchen depends on if the kitchen is listed as a feature of special historic or architectural interest. If you're unsure about your property's listing, it's always best to consult your local planning authority. As a general rule, you can only make careful repairs that won't affect the building's special interest without express consent and planning permission. For all other alterations, extensions or renovations, you must apply for written Listed Building Consent from the relevant authorities.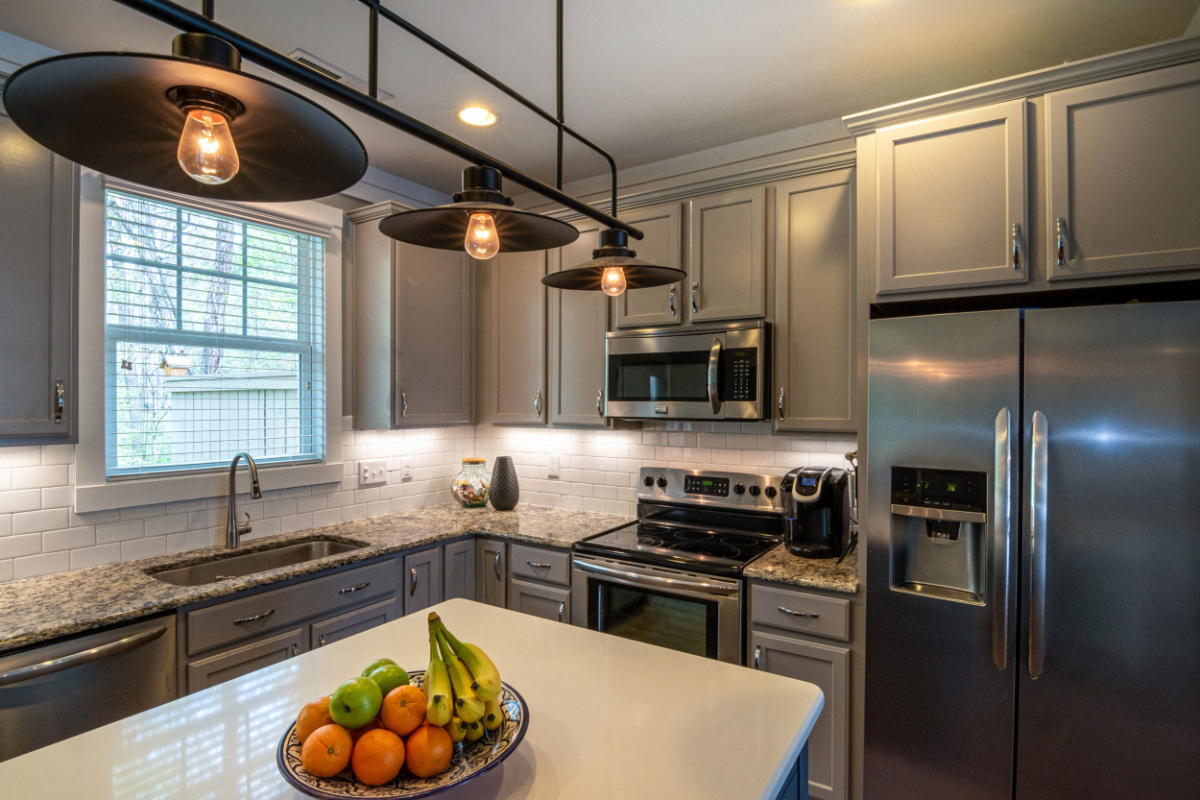 Therefore, if you want to make significant changes to your kitchen, you will likely need Liste Building Consent. Changing any of the original features, Victorian fittings or plans that contribute to the existing building's substance and historical significance need permission. You can face criminal prosecution if you carry out any project without this permission. For example, your kitchen may have a fireplace or stone flags of historical interest, which are protected under conservation laws and government planning guidelines. Essentially this means you cannot touch them.
Additionally, while you may be permitted to fit or alter features, such as a modern extractor fan, or upgrade the pipework and electrical wiring, you must tread carefully. Whenever you undertake a project on a listed building, you will be liable for any damage caused during the process, whether intentional or otherwise. Therefore, it's recommended that whatever features you plan to change or install should be easily accessible or reversible.

Creating a new kitchen
Turning a room previously used for something else into a kitchen in a listed building is fraught with issues. For example, reception rooms that are usually more central in older houses may be the perfect place for a new kitchen. Still, they usually contain period plasterwork, architectural joinery or other elements of historic or architectural interest. Therefore, before you move the kitchen or create a brand new one, you'll need to find out what elements of the listed building's interior are protected.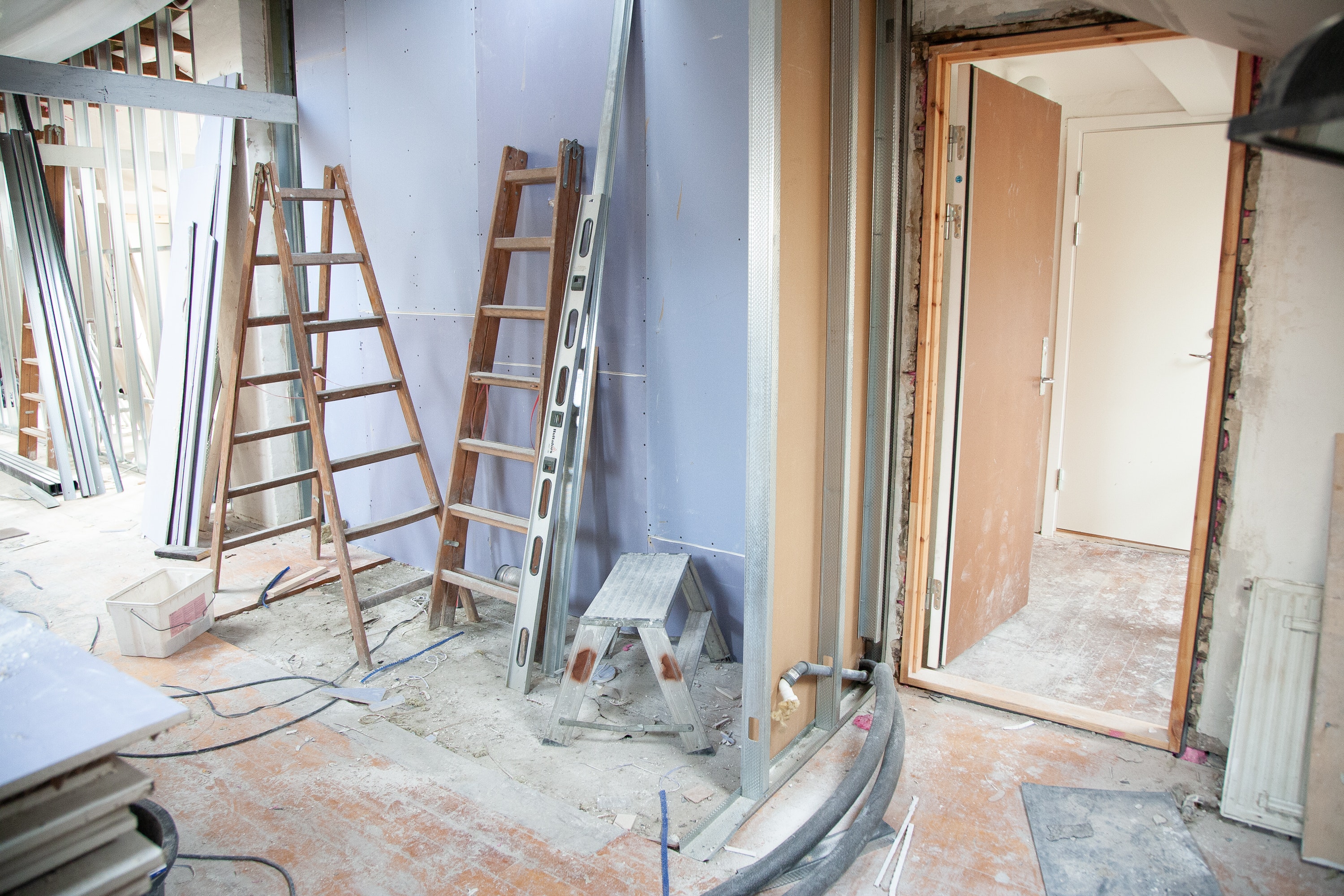 If you are planning on removing a wall to create a kitchen-dining room, this can be incredibly difficult. Securing permission to significantly alter the interior of listed buildings can be a long process. It will usually take a long time to secure the relevant Listed Building Consent, and your local conservation officer will follow your building work from start to finish, with all the red tape that involves.
The difficulty arises from the fact that changing the interior plan of a listed building could seriously affect its historic layout and special character. Given that the interior story of historic buildings is one of the main reasons they can be listed, it makes sense that these special features would be protected under conservation laws. Therefore, if you want to make any significant interior changes, you'll have to jump through all the hoops of Listed Building Consent to even be in with a chance.

Grade I Listed Buildings
Grade I Listed Buildings are those of the most exceptional architectural or historic interest. Only 2.5% of all listed buildings in the UK are awarded Grade I Listed status. Many of these buildings are of national and international significance and include places like 10 Downing Street, London's Tower Bridge and Buckingham Palace. Very few Grade I Listed Buildings are likely to be private residencies.
However, suppose you do own a Grade I listed property. In that case, the chances are that you won't be able to make any alterations, whether to the interior or to the existing exterior, under any circumstances. Historic England aims to preserve Grade I Listed Buildings in their original state as much as possible. So, even if you propose making changes using like-for-like materials and traditional methods, the odds are so far against you that it wouldn't be worth trying to apply for Listed Building Consent.
Additionally, designing new features for Grade I Listed Buildings can be incredibly difficult, given that they are not designed for modern features and utilities. For example, safe extraction routes for kitchens are notoriously impossible to find in older Grade I Listed buildings. You will also have to consider using historical building methods, such as soft lime mortar, in the incredibly rare cases where you can make an alteration or repair.

Grade II* Listed Buildings
Grade II* Listed Buildings are those of particular importance of more than special interest. Only 5.5% of listed buildings fall into this category. It's also something of a hybrid grade, given that the entire building may only be worthy of a Grade II listing, but there are certain features which grant it particular interest. Grade II* Listed Buildings are treated similarly to Grade I buildings, i.e. you won't be able to make any alterations to them.

Grade II Listed Buildings
Grade II Listed Buildings are those in the final category of classification. The remaining 92% of listed buildings in the UK fall into the Grade II category and are considered nationally significant and of special historic or architectural interest. The majority of private homes or commercial buildings will be in this grade.
However, even though you can privately own these properties, that does not mean you can do what you like to them. Any alterations, repairs, renovations or extensions must have written Listed Building Consent from the relevant local authorities. Contacting your local conservation officer is the best way to discover what alterations you can make. Since local authorities manage the vast majority of Grade II Listed Buildings, the range of changes you can make will differ from one place to the next.

How to approach your bespoke kitchen design and installation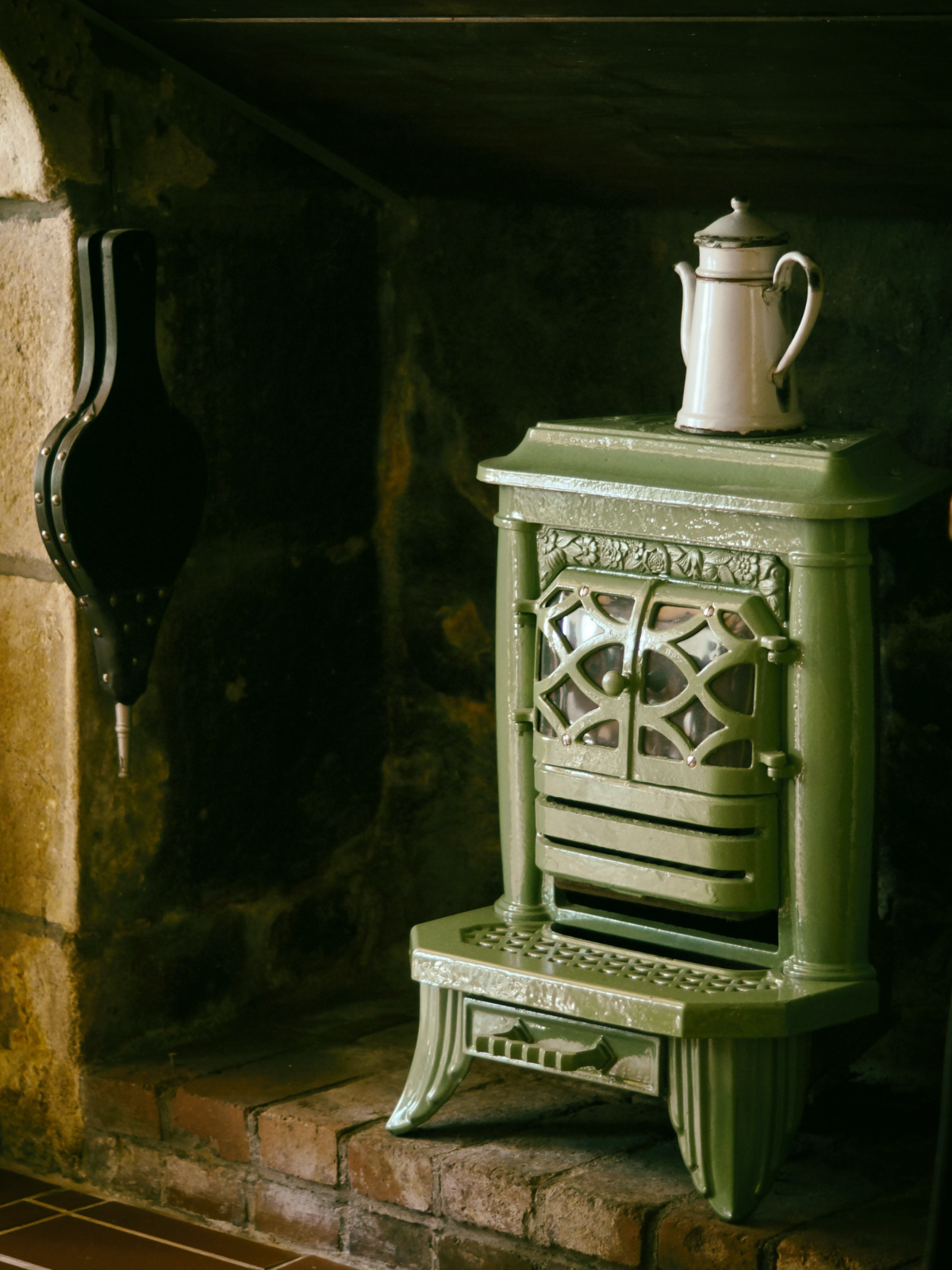 Again, the way we use our kitchens has changed dramatically over the centuries. Where once it was a working room that required only the most basic equipment, such as a fireplace, pantry, fitted dresser, kitchen storage, sash windows and a stove, now they can be places to relax and enjoy a meal with your family. When you also consider our need for washing machines, dryers, food storage spaces, appliances and every other element of a modern kitchen, those in older listed buildings quickly look ill-suited.
Therefore, you may need to design a bespoke kitchen if you want to change the one in your listed building. Grade II properties are not as strictly protected as other grades, meaning you can make changes to them so long as you preserve the property's historic and architectural character. So long as you aren't completely overhauling the entire internal layout plan of the building, you should be able to obtain Listed Building Consent for your proposed changes.
Your first task in designing your bespoke kitchen is to determine if it has any protected features on the National Heritage List for England (NHLE). This can include things like:
Cast iron range cookers
Original bread ovens
Fireplaces
Old floor tiles
Timber beams
Plaster ceilings
Be prepared to have your consent application refused if any of these important historic features will be affected by your proposed changes.
Again, removing rubble walls, fine joinery, timber beams, chimney breasts or doorways to create a kitchen-dining area will almost be impossible, despite how much easier it is to modify a Grade II Listed Building. Changing the interior layout of a listed property is frowned upon by most local authorities, as they are meant to protect historic buildings and preserve their overall character, including their interior plans. They also must limit potential damage to the property that your project could cause.
As part of your planning application, you must demonstrate a clear understanding of the building's history and be able to show how your changes won't affect its special interest. Therefore, one of the best ways to help your application succeed is to come up with potential changes with the best chance of being accepted.
Another way to make things easier for yourself is to consult a professional architect and seek advice from experts. Additionally, you may want to consult other professional advice from structural engineers, electricians, plasterers, joiners or any other contractor that specialises in working on listed buildings. Cooperating with your local listed planning officer will also make things easier for you.
---
Are you looking for an commercial architects in Sussex, Kent, Surrey and London? For architect services in West Sussex and the surrounding areas, follow the links below.